Pallets
The Pallet Factory produces a variety of wooden pallets. The pallets are delivered unassembled for export or assembled for the domestic market. Pallets are made in standard sizes and to customers specifications.
EURO pallet
The EURO pallet is a standard pallet used mainly in Europe. This pallet meet specific requirements for long term use. The pallet is often being lent out from the transport companies to the customers. The customers are requiered to supply the transport companies back the same amount of EURO pallets, more or less like a personal loan. The pallet is 80cm wide and 120cm long. We do currently not offer this pallet for export.
Four-way pallets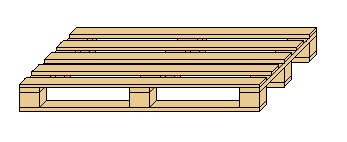 This is a very common pallet, with the functionality of the EURO pallet, but the cost of a "one-time" pallet. This pallet is also made in a lot of sizes and varieties to meet the needs of the customer.
Two-way pallets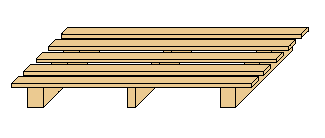 This pallet is a low cost pallet, but this does not mean that it is a weak pallet. In fact the easy construction gives a stabile pallet. This pallet is also made in a lot of sizes and varieties. Some pallets do also have under-boards, something which is useful stacking pallets on top of for example sand bags or oil barrels.
The Pallet Factory prides itself in quality workmanship, timely delivery and competitive prices. Many of our customers have been with us for over 25 years.