The hinges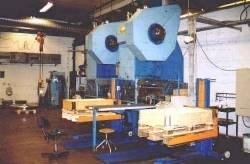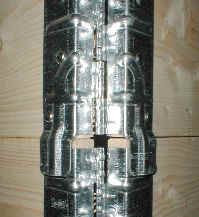 An important part of the pallet bins are the hinges. They are made from 16 gauge galvanized. Swedish steel. The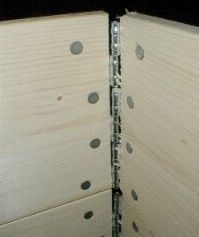 semi-automatic presses each have a capacity of 1500 hinges/hour. Each hinge is inspected. The hinges are attached to the wood of the pallet bin using a special constructed nail.
From the inside, very little of the hinge is visible. The nails are almost in height with the wood, this means that the chance of damaging the product, like for example apples or other types of fruits is minimal.
The hinges are made of 1,25 mm galvanized steel ( 16 gauge Standard US Gauge system). Larger pallet bins are produced with hinges made of 1,5 mm galvanized steel.
Production of collapsible pallet bins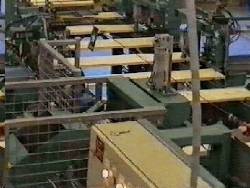 The pallet bins are produced using automatic high capacity machines. These machines are automatically adjusting the length and width of the bins, to fit the pallets perfectly. By using automatic machines, each bin is produced at the same high quality. Each bin is manually inspected before they are packed on pallets and shipped out to the customer.
The wood used, is dried and planned Norwegian pine, high quality, solid wood. Wood dimension 20 x 195 mm (about 7 3/4" x 3/4"). These dimensions are constant, but bin length and width are cut to specification.
One pallet bin weigh about 20 lbs. (8-10 kg), and are made for heavy commercial use. They are pleasant to touch and nice to look at.