Using collapsible pallet bins
Pallet bins can be used everywhere goods are handled, stored or transported. The following are some illustrations of how pallet bins are used in Europe.
Let's talk about the pallet bins in your manufacturing programs.
Agricultural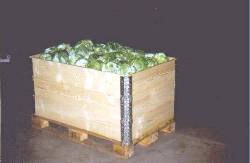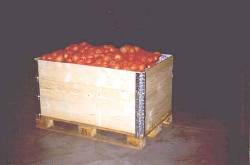 The agricultural industry has used box bins for years. Due to the ease of storage and handling, collapsible bins offer a better solution. The product gets natural ventilation and protection during transport and storage.
---
Transportation

This industry appreciates the ease with which pallet bins can be loaded and unloaded and how the cargo is protected. By reducing unused space to a minimum and by collapsing the bins with empty back hauls, make The pallet bins to be the first choice.
---
Manufacturing

In manufacturing, pallet bins have become a necessary and common tool. Product is moved in lot sizes or single units. Bar coding offers easy inventory control. Pallet bins are work friendly, increase or decrease the height as it fits for your working comfort.
---
Shopping centre

There are many advantages by using the pallet bins to display merchandise. The pallet bin is "always" full. Simply roll the pallet bins into the store, directly from the warehouse.
---
Gas Stations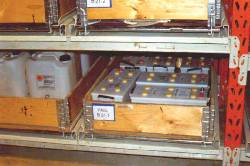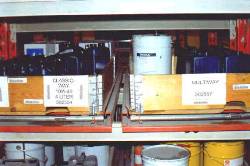 Almost every warehouse benefits from the use of pallet bins.
---
Electrical

Motors, parts and vast numbers and types of components are stored in pallet bins.
---
Paint Store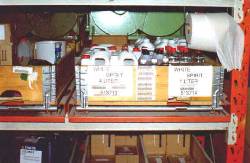 Paint, solvents, other liquids and all types of tools and accessories are stored in pallet bins.
---
Warehouse
Pallet bins expand storage capacity, increase efficiency and protect the product. The use of bar-coding is essential for good inventory and warehouse control. Place the bar code stickers on the pallet bins.