Contact
Pallefabrikken AS
The Pallet Factory
6146 Ĺheim
Ph: +47 70 02 43 34
Fax: +47 70 02 44 90
Email:
Wooden boxes
The Pallet Factory has been a producer and supplier of wooden boxes, for several years. Many of our wooden boxes are produced for the Norwegian Codfish industry and exported to Brazil. To keep the freight costs low, our wooden boxes are delivered flat.
Small wooden boxes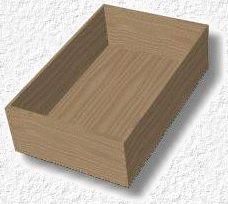 These boxes are delivered in one board height, mostly that is 10-12 cm (4"-4 1/4") inner height. Tops, bottoms, sides and ends are in pine/spruce. These boxes are a price favourable alternative. As an example a wooden box of this type, with a volume of about 14 liters, top and bottom included, costs 11,- NOK (about 1,70 USD at today's exchange rate).
Wooden boxes in several heights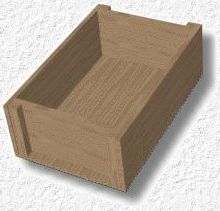 For more height than in the wooden boxes above, wooden boxes with two or more board heights are delivered. These boxes are kept together with vertical sticks in each corner.
Wooden boxes in several board heights are also produced. These boxes may be for example (width x length x height) 100x120x100 cm, 80x120x100 cm, 80x120x80 cm or other sizes. These boxes have several sticks, keeping the box together.
Wooden fruit and vegetable boxes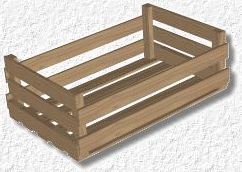 These boxes are to be used for harvesting, storage, transport and in-store display of fruit and vegetables, like apples, oranges, cabbage and leek. These boxes ensure that the fruit or vegetables packed get natural ventilation and protection, during transport and storing.
Extra high quality wooden boxes (Codfish boxes)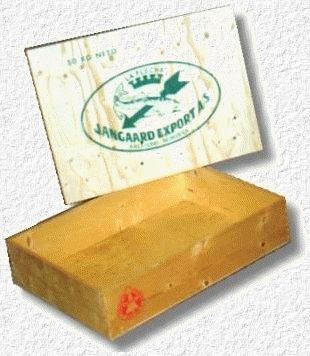 The two standard sizes of these boxes are 60 x 84 cm (about 23 1/2" x 33") and 60 x 100 cm (about 23 1/2" x 39 1/2"). Sides are 15 mm (about 3/5 Inches) thick, planed, dried pine or spruce. Tops and bottoms are in high quality plywood.
Corners are dovetailed for ease of assembly, additional strength, and a pleasing look.
In today's markets with corrugated steel and plastic, our wooden boxes are eye catchers. With your name and logo on the sides and tops, they enhance your product, increase sale and profitability.
Other wooden boxes
The Pallet Factory does also produce a variety of wooden boxes for other uses. Boxes are produced after specification. Please contact us with your specifications and quantities, for prices.