Welcome to our web site
The Pallet Factory, producer and exporter of wooden packaging, such as pallets, collapsible pallet bins and wooden boxes.
Ships worldwide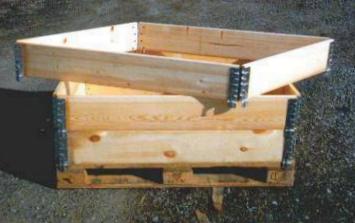 With favorable freight costs and low raw material prices, The Pallet Factory is able to deliver its products to compete able prices covering Europe, Japan and North America.
The most favorable products for export, is the collapsible pallet bins, with accessories and wooden boxes.The collapsible pallet bins and wooden boxes are shipped in container loads, but smaller sample loads are also delivered...
Heat treatment
Our wooden products for export are heat treated and de-barked to meet the worldwide shipping requirements for wooden packaging. We are certified and our products are stamped according to the ISPM 15 standard.
Company Profile
The Pallet Factory has been a producer of pallets since the 70's. The product line includes pallets, collapsible pallet bins, crates, and wooden boxes. The Pallet Factory prides itself in high quality products and timely delivery.
The Pallet Factory will strive to deliver reusable packaging, and herby to make packaging a reusable resource and not a waste problem.